Create Call Sheets Faster, Easier, Better.
Film, TV & Video Production Management Software Made Modern.
GET STARTED FOR FREE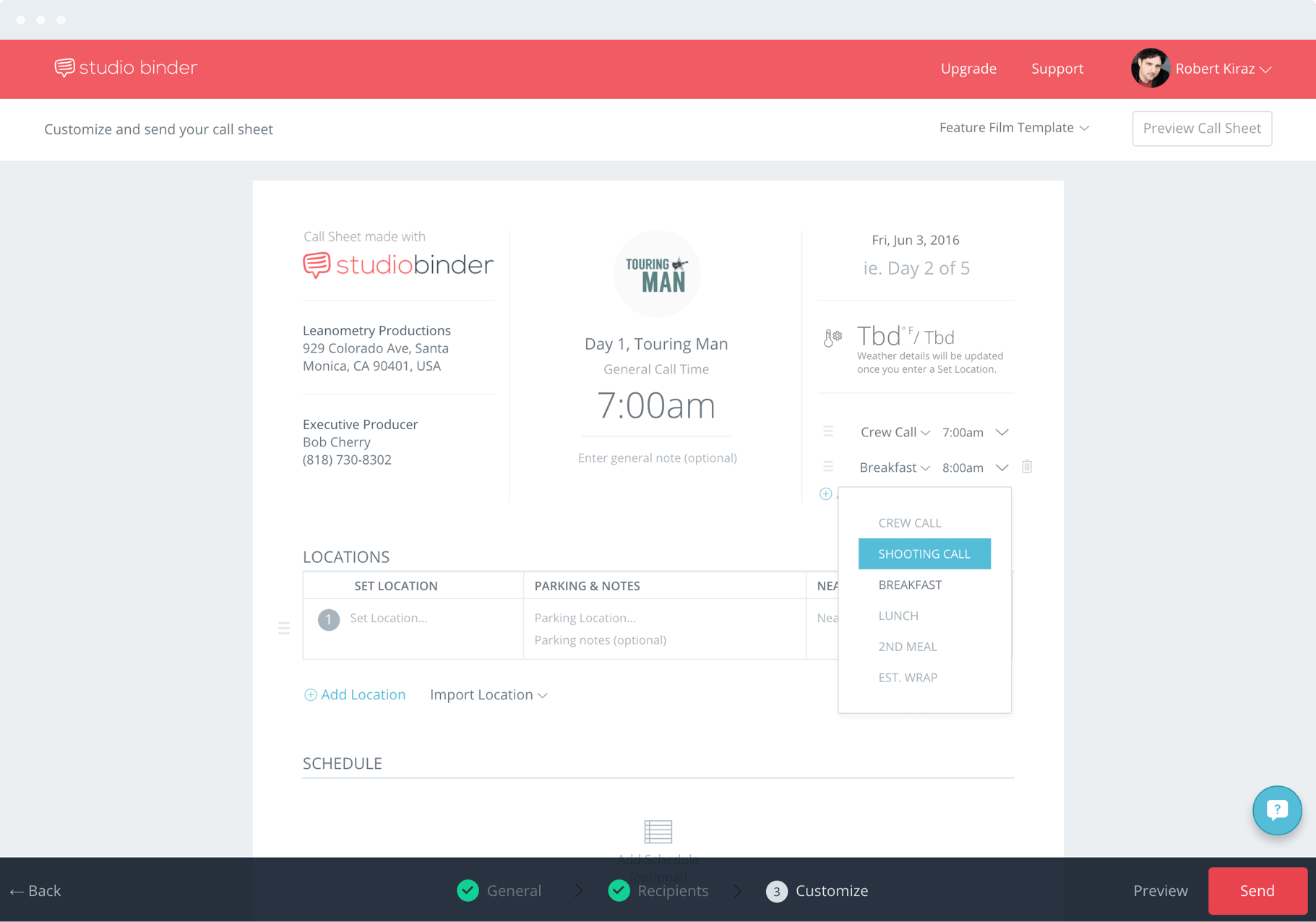 We'll Do the Heavy Lifting
StudioBinder's Call Sheet Builder lays everything out for you so you don't need to fiddle with around create or endlessly tweak a generic call sheet template anymore. Stay focused on the important things like the shot list or shooting schedule rather than pixel pushing a spreadsheet.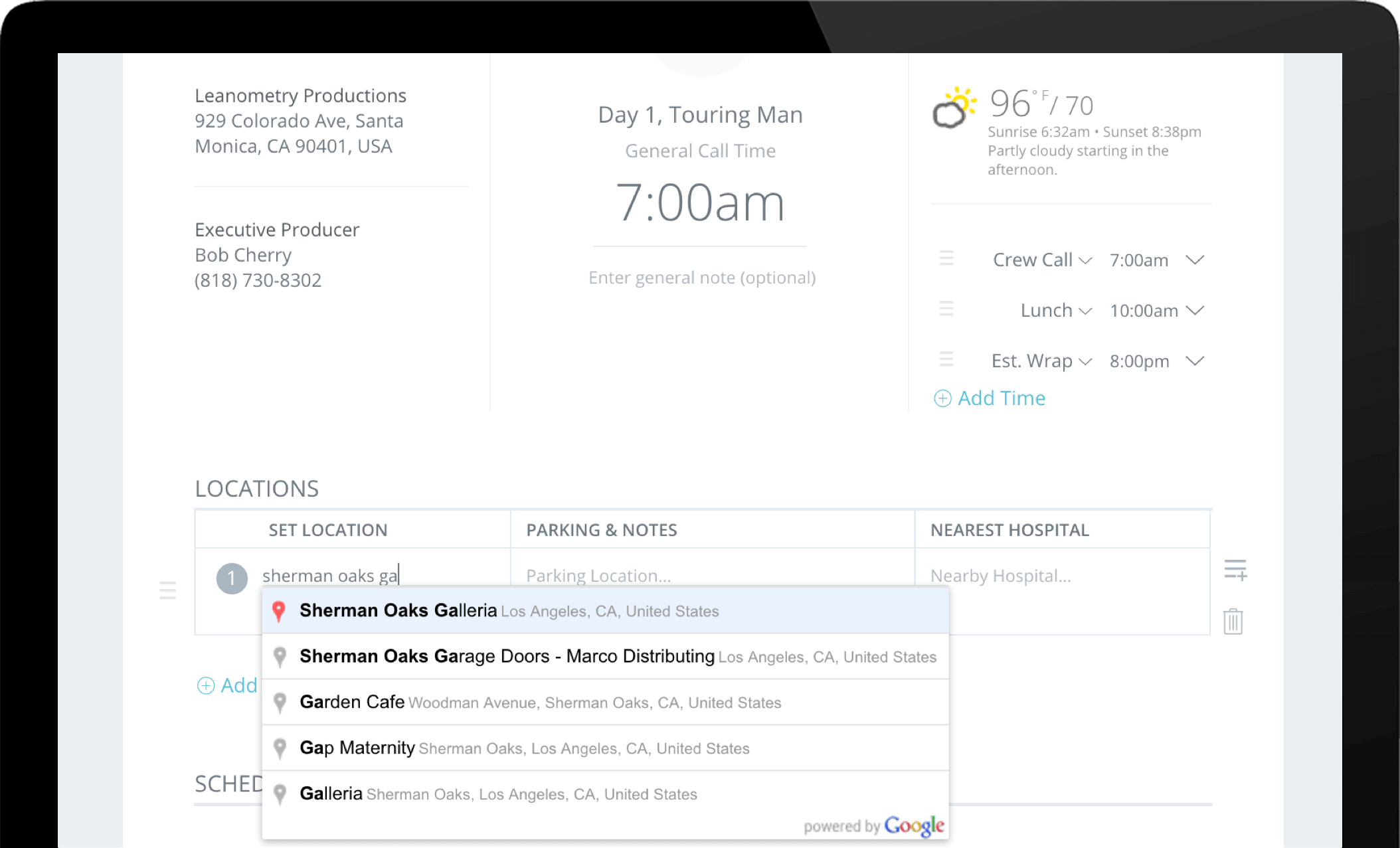 Again, it's a call sheet, not a spreadsheet! Put your Excel call sheet template away, and say goodbye to the repetitive cell entry. We automatically take care of map links, weather, and hospital details. Call times are personalized and easily modified in bulk so you can create and send call sheets in a fraction of the time.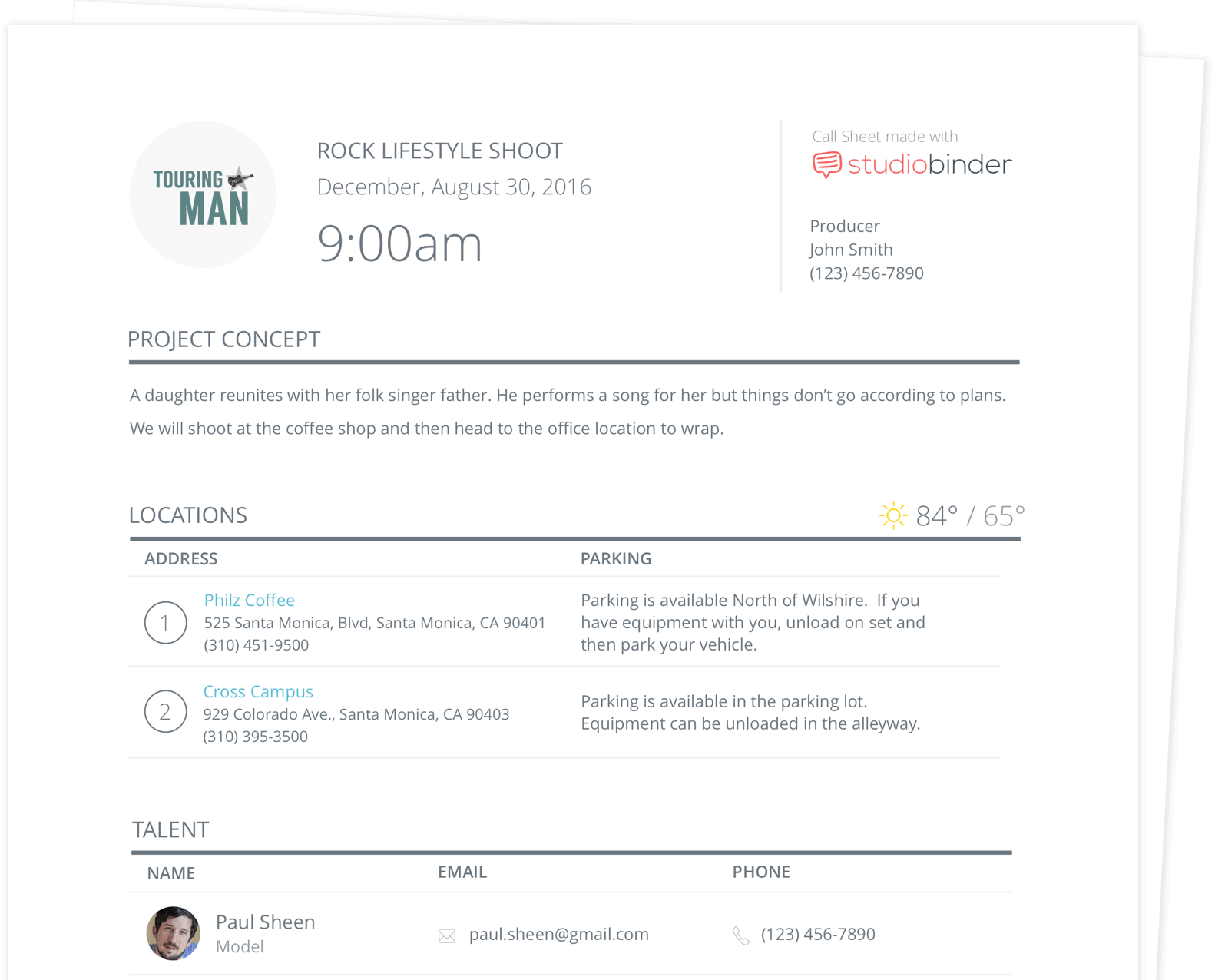 Call sheet designs are based on industry standard layouts, just made slicker. We offer various call sheet templates to fit every scale of production. Call sheets and PDFs are securely viewed online and emails are personalized for every recipient.
Preview our call sheet examples: Film & TV Call Sheet, Photography Call Sheet, and our Modern Call Sheet Template.
Mobile Ready for People On-the-Go
All call sheets are rearranged to display perfectly on mobile devices. No need for cast and crew to download PDF files and pinch their phone screens to zoom in. Access your contact list via phone so you can reach out to talent or crew members via phone, SMS or email with a single click.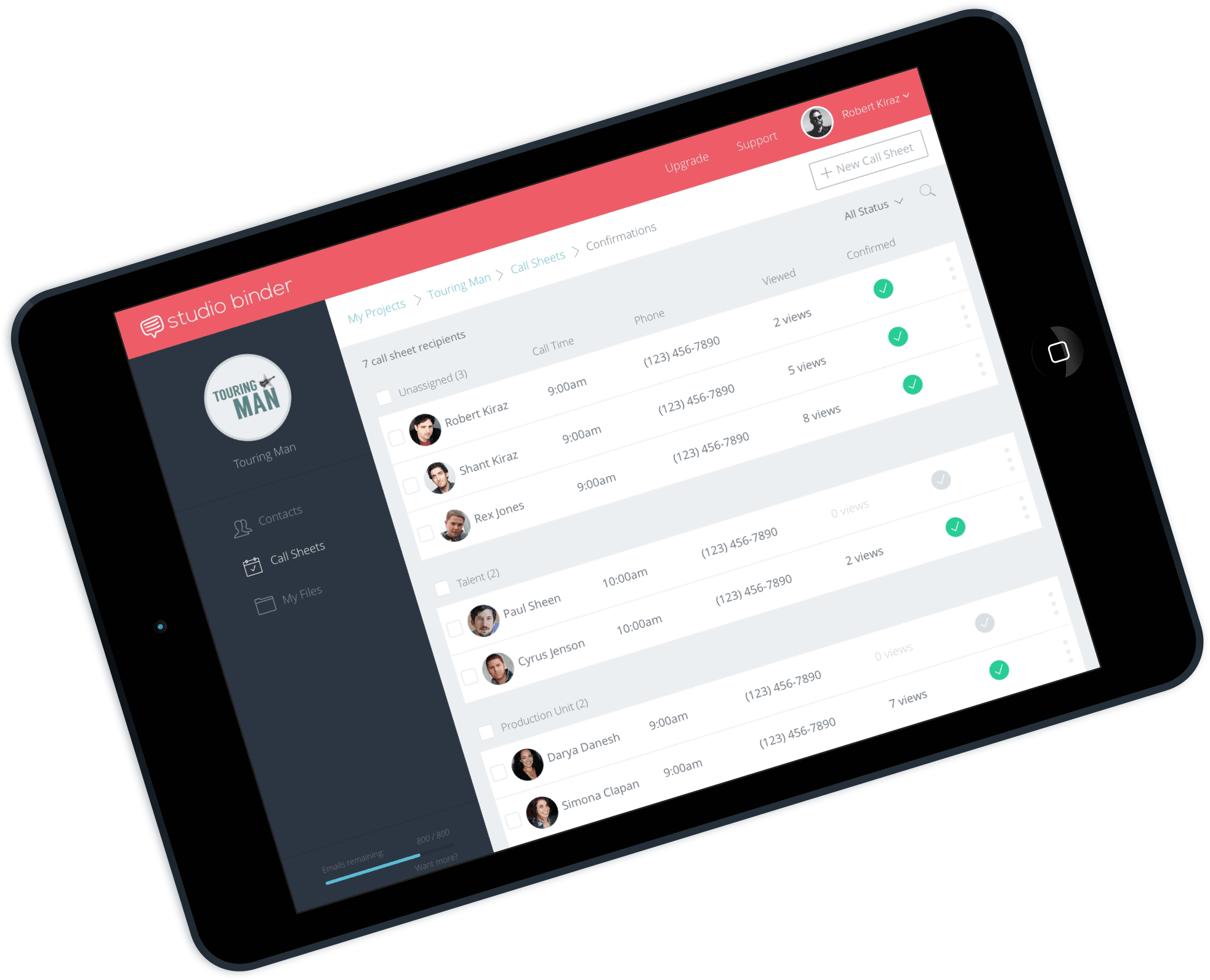 Oversee Call Sheet Recipients & their Status
Say goodbye to pasting a cloud of emails into your email app. With StudioBinder, every call sheet recipient is layed out in a clean list so you know exactly who was sent a call sheet, and whether they viewed or confirmed receipt. Want to print a list of call sheet recipients for your records, you can do that too.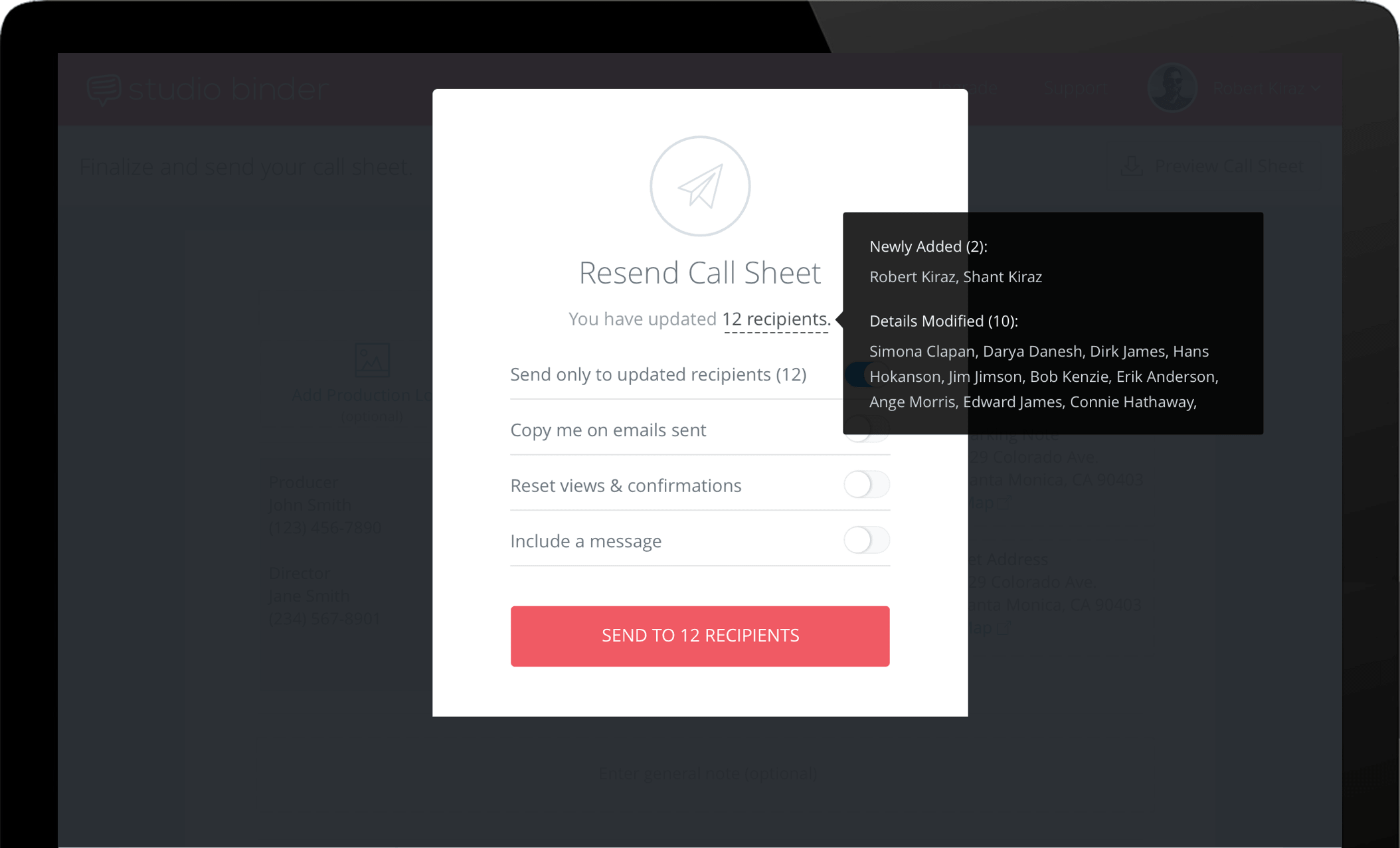 It's confusing for cast and crew to receive multiple versions of a call sheet PDF. With StudioBinder, your latest changes are available online so recipients are always looking at the right version. Make invisible changes and send updates only when necessary.
AUTOMATIC MAP LINKS
Recipients can easily get navigation directions to set.
AUTOMATIC WEATHER
Sourced from over 50 Weather APIs. Weather updates itself every minute.
PERSONALIZED CALL TIMES
Personalized call times, parking and notes included in call sheet and email digest.
ATTACH FILES
Attach up to 10 MB to every call sheet email: maps, scripts, safety notices, etc.
GENERATE PDFS
For easy printing and record keeping. Attached to emails and online call sheet.
SCHEDULING
Add scene details, company moves, schedule items, advance schedules.
MOBILE RESPONSIVE
Call sheets have a responsive mobile layout for easy referencing on set.
MOBILE CONTACT SHEETS 
Call, email or text your cast and crew right from the call sheet on mobile devices.
EXTRAS & ATMOSPHERE
Calculates headcounts for extras and background talent.
PRELIM APPROVAL SYSTEM
Collaborators view prelim call sheets, leave notes and can approve with one click.
TRACK VIEWS & CONFIRMATIONS
Track when cast & crew view and confirm their call sheets.
AN END TO VERSIONING
Latest changes are always online so you don\\\'t need to resend new versions.

Join thousands of companies modernizing their workflows.
StudioBinder replaces dated workflows, enhances experience, and is free to get started.
GET STARTED FOR FREE