A model release form is super important since it protects photographers from liability and licensing claims that may arise down the road. In this article we'll go into how to maximize its protections, and provide a model release form template to get you started.
What is a model release form?
The model release form is a contract that outlines the agreement between a model and the photographer, most often used in fashion photography. A model release allows the photographer to use the photos promotionally or sell the photos commercially. 
Always obtain a model release prior to shooting, regardless of whether the model is paid or unpaid. Even if you don't have any plans to license the photos, an opportunity may present itself well after the shoot.  To prevent any issues, get the release before you start shooting on the day. Trying to secure a model release after the fact can become problematic.
Is a model release form the same as a photo release form?
The short answer is no, they are very different.
As we mentioned, a model release is signed by the talent so the photographer can license or use the image. On the other hand, a photo release form is a document signed by the photographer and given to the client so they can print copies of the work (i.e. portraits, headshots, or wedding photos, etc.).
In most photoshoots, both agreements should be signed. For example, let's say you shoot headshots for an actor. They sign a model release, and you provide them with a photo release for duplication purposes. Years later, they want to sell the photos as posters on their website. In order to do so, they would need to provide you with a licensing fee or they would be violating your copyright.
Shooting photos in public places
In the United States taking photos of an individual in public is a protected right for the photographer since privacy can not be guaranteed to anyone in a public place. The exception is that the photographer cannot sell a picture commercially without a model release. So, if you took an amazing street photo of a unassuming subject, get a release signed afterwards.
Lifehacker has a great article on shooting in public called 'Know Your Rights: Photography in Public.'
When photographing groups of people in public, a model release form should be signed by any individuals in the photo that stand out as "identifiable" due to their unique look, dress, tattoos or other distinguishing characteristics. If the photo is used for anything that can be considered defamatory, offensive, scandalous, harmful or portrayed in a false manner, then any identifiable person in the photo who did not sign a model release may have the right to file a suit against you.
Lastly, be aware that voyeuristic shots of a private event that is happening in public view (i.e. wedding, birthday party, etc.) may be seen as illegal since the subjects have an implied right to privacy.
Things you should consider in your model release form.
Digital manipulation clause
Digital manipulation is any change made to a photo in post like retouching, for example. Especially when the 'photoshopping' alters the model's physical traits.
I would venture to say that no photo commercially distributed today is without digital manipulation. For this reason, this clause should be included in all of your model releases to both protect yourself and those that license your photos.
Sensitive use
Sometimes you're hired to shoot a sensitive topic such as suicide, racism, sex, politics or religion, etc. Including a sensitive use clause will protect you from any claims raised by the model for loss of work down the road.
Sensitive use cases are naturally subjective. They're hard to define, and differ from place-to-place. Think globally, and you'll see the possible variance. However, it's never a good idea to blanket authorize sensitive uses. Always use your best judgement. Here is an example of complete language from the folks at the American Society of Media Photographers.
"I understand that the pictures of me will be used in public-service advertisements to promote AIDS awareness. Knowing that such advertisements may intentionally or unintentionally give rise to the impression that I suffer from this disease, I nevertheless consent to this use."
How to administer your model release form
1. Prep your paperwork ahead of time
If you're a fashion photographer, have your models sign before they even go into make-up. If a model refuses to sign after a day of shooting, the work is lost. Also remember to bring extra copies when going out into the field. People make mistakes and often need to start over.
2. Get a new release every time you shoot
3. Make sure all information is legible
The wording of the release is important, but so is the information that is captured.  Always make sure that all the models' details are easy to read, especially when it's handwritten. Because phone numbers change more often than emails, we added an email section to our model release form template.
4. Associate proofs with executed model release forms
You'll need to know which releases cover which photos specifically, sometimes months, years or decades after a shoot. The best practice is to bundle thumbnails or proofs from the shoot with the release in your files. That way when someone wants to license a photo from you — you'll know exactly which release to send. For greatest ease, create a single PDF file that has both the fully executed model release scan and the proofs from the shoot.
5. Create electronic backups
Use a scanner or smartphone to take an electronic snapshot of your fully executed release form. Make sure to back it up somewhere safe, preferably secure cloud storage like Dropbox or Hightail. Many photographers have a tendency to scan a release and discard the tangible paperwork. However it's best practice to retain all copies of every executed release indefinitely.
6. Utilize email to establish a record
Always countersign, scan and email a copy to the client after every photo shoot to generate a legal record through email trail. Having an email, or general a backup in the cloud, provides redundancy should your computer or hard drive fail.
Manage model release forms and files in the cloud
StudioBinder's free photo project management software makes it easy to keep your release forms and photo proofs backed up in the cloud. The software also enables photographers to create and send call sheets and schedules. StudioBinder is free to get started.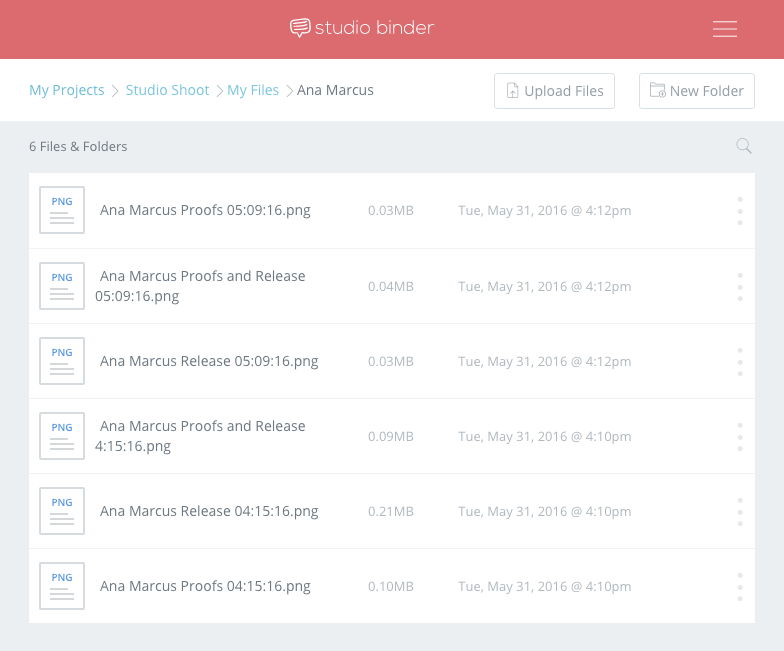 Model Release Form Template Downloads
Standard Model Release Form Template
For the reasons discussed earlier, we've included a digital manipulation clause in our model photo release form template.
Get Standard Model Release
Simplified Model Release Form
This simple model release form is a shorter version of the above. This is a great option when requesting signatures from people in public as the language is not intimidating.
Get Simplified Model Release
Model Release Form for Minors
If you are shooting a minor, you must have atleast one legal guardian available for approval. There are restrictions for shooting with subjects under age 18. In the U.S., meals, breaks and hours are tightly regulated. If you are unsure, contact your permitting office for requirements when shooting with minors or children.
Get Minors Release
We love to provide resources and templates to photographers!
Just please remember, this article should be construed as informational, not legal advice. StudioBinder does not provide or offer legal advice to its readers. StudioBinder, its editors and authors will not be held responsible for any legal issues the reader might encounter based on the subjects found in this post. As always, we recommend you consult a legal expert for advice on release forms and agreements. This disclaimer assigns you, our readers, all responsibility for your own decisions.
Like this Post? Share it!
Wrapping Up
We hope this article is helpful in providing a better understanding of a model release form template. Remember, a model release is only part of the process. It's also best practice to provide a photo release form to a client that grants them permission to print the work. If you haven't already, make sure to read our companion article where we describe Why You Should Have a Photo Release Form Ready and provide a template to get you started.
Do you have any tips you want to add?  Please share in comments, below. Questions are always welcome.
StudioBinder. Web-Based
Film Production Software.
• Create, send & track call sheets
• Make stripboards & shooting schedules
• Organize talent and crew details
GET STARTED — FREE FOREVER

Focused on the intersection between Entertainment and Technology. Grew up in Silicon Valley, now resides in Silicon Beach. Also an animal lover, avid reader and futurist.

Latest posts by Darya Danesh (see all)
---
Also published on Medium.